I have an idea, I as well as many others am very disappointed that the AMC homecoming from July 27-31 is again canceled. Rather than just be bummed about it, let's get together anyway. There is an event two weeks earlier we could ALL attend!
Would there be interest in getting an event together in conjunction with the Road America Vintage Racing Event on July 15 to 18?
We can commemorate the first win by AMC Javelin in SCCA TransAm which occurred here on July 19, 1970. 51 Years Ago.
We can also commemorate 50 year anniversary of AMC winning the TA Championship. Penske/Donohue won here again on July 17, 1971!

https://www.roadamerica.com/weathertech-international-challenge-brian-redman

The Historic Trans Am group will be there. Last time that group was at Road America the Penske Javelin was there as well as one of the RWR Javelins.
http://www.historictransam.com/schedule.html

For those that have not been to Road America, to say the least, they have LOTS OF ROOM, so I'm sure if someone contacted the track they could do a few things to facilitate a gathering.
- Food, Beverage, and bathrooms are readily available.
- Luch-time track touring will also be available. Take your car out on the track for a few cold laps.
- The roads and restaurants around that area of Wisconsin are outstanding to dive, and we could do a poker run, or something similar.
- Hotels easily available.
- Recreation. The village of Elkhart Lake is awesome, public beach, hiking trails available in the area.
- Oh, and by the way, Amazing Vintage Cars on the track to watch and ogle in the paddock. There may even be AMC racing in the event, who knows?
- On-Site Camping

I live near the track but I don't have the time to organize the entire event, I could do some work on this however. If others would be willing to assist that would help get this off the ground.
Thoughts?
Michael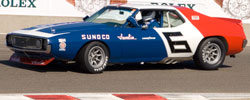 Edited by 343sharpstick - Feb/11/2021 at 2:23pm