Well I have a month between jobs and I want to get this transmission into my Hornet but gotta finish my taxes this week...
I have been buying and remodeling houses in Oakland CA and saving money by living in the fixers but now *fingers crossed* I am trying to stay in the latest house, my 4th. The process of moving my crap around has been a nightmare but I now have a small garage that I can set up it's just full of my stuff and I need to run a sub panel in there.
My Hornet was driving roughly with a messed up Holley and the AX-15 but I took it apart to do this crazy transmission project at my parents house who have a nicer garage but they really want the Hornet out of their driveway
Anyway I got all my transmission parts out of my garage full of crap and took them over to the car to get ready to put her back together.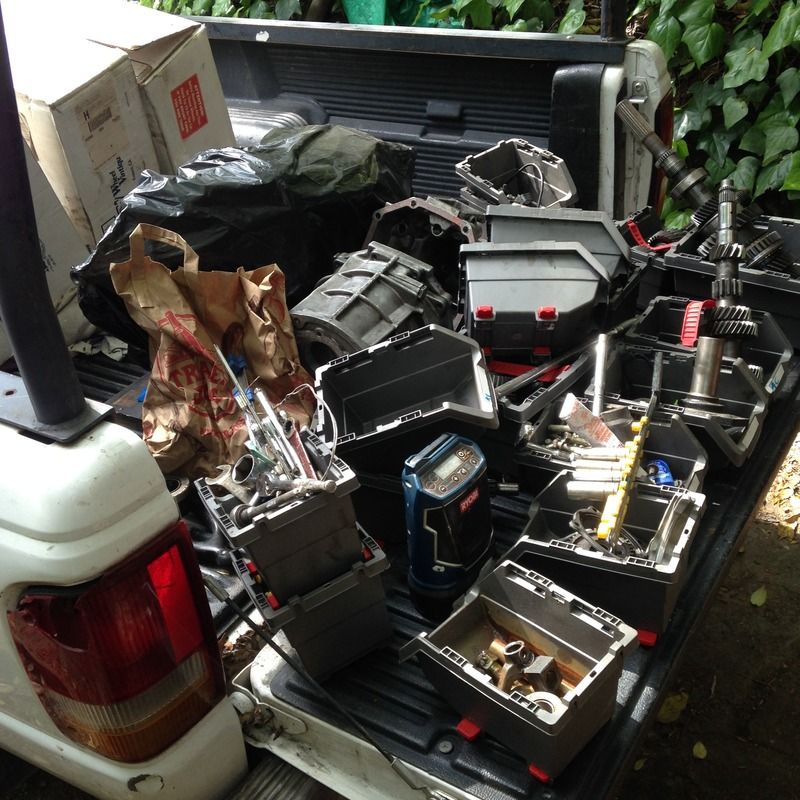 Above you can see from left to right -
The gear assembly is in the intermediary plate in a vice bolted to a piece of 1" plywood for a stand and wrapped in black plastic
The AX15 transmission case halves
and to the right the boxes of transmission parts including another R154 set of gears
I also have, not pictured, a complete AX-15 2wd external slave trans so I have the parts to make a second one of these hybrid 5 speeds
I hope to update you soon when I have the trans in the car but then I gotta work on that Holley model 8007 390cfm carb before I can give you all a description of the test drive.
The AX-15 is strong enough for the engine but the 3.83 first gear was too low so I'm thinking the R154 will have good gearing and be very strong.
The 89-92 supra turbo is actually around 500 pounds heavier but the 3.0L turbo it has is 232HP and 240lbs torque so similar power to weight ratio as the Hornet with the hot 258.
My rear axle is a 3.54 model 20 from a 70 AMX. The Supra had 3.54 up to 4.10 IIRC but had smaller tires than mine which is gonna have some Radial TA tires on 14x7.
All that means my Hornet is going to have the drivetrain specs of a factory sports car which is enough for me
However I think the R154 gears with the Marlin Crawler parts should be able to take way more power like a built 401 which is why I wanted to share with you all.