After inventorying the Charity AMX today, here are the items that are needed for completion. I tried to break it down by area:
Under the hood:
Need heat riser.
Ram air parts-need everything except the "Y" duct (over air cleaner with foam and solenoid, hood inserts and chrome surrounds with clips.)
Would like a radiator with the date code J9, K9, L9, A0, B0, C0. Damaged or not, as long as the top tank is ggod.
7 bladed fan and shroud
Correct 70 air cleaner housing with element-have snorkel and lid. Need wing nut
Black heater hose to water pump
Accelerator cable
Heater control cable
Tach wiring harness
Clamps for smog system hoses
Smog pump fan belt
High pressure power steering hose
Vacuum advance hard formed line
Cowl weatherstrip and metal retainer
Radiator cap
Power steering pump rebuild kit
Correct battery
THE FOLLOWING PARTS HAVE BEEN REMOVED FROM THE ABOVE LIST AS WE HAVE FOUND SOMEONE TO DONATE THEM-THANK YOU ALL VERY MUCH!
EN66 engine paint
Hood bumpers that mount on fenders.
Correct nuts for hood hinges-need 8
Correct thermostat housing-should not have any plugs for CTO switches
Correct log style 1970 up exhaust manifolds with smog holes. These would all work from 304 to 401 engines, but the date coded mid 70 AMCs would be better. Will take them with or without the smog stuff on them
Dip stick
Need one hood adjuster with one rubber bumper-here is a pic of the damaged one and a good one: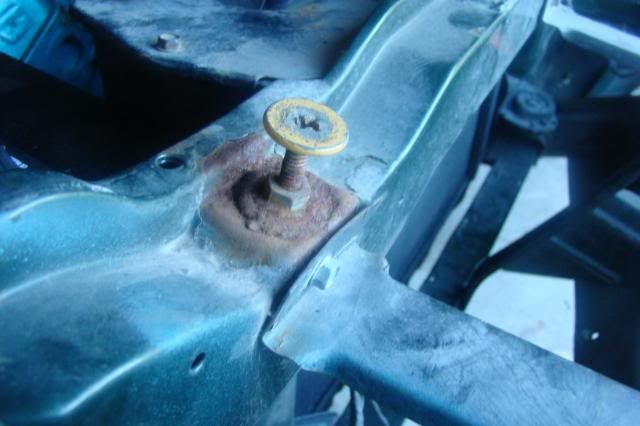 Need painted oil cap
5 small head valve cover bolts and 10 half moon washers.
Electric washer pump wiring harness
Fuel line clamp at valve cover
Brake line "S" clip at master cylinder
Vacuum advance assy (single diaphram)
Correct distributor cap
"H" shaped brake pressure differentiation switch mounted to firewall
Correct coil
69-70 heater motor (68 is on the car)
For the intake manifold-the small square head pipe thread that is used for standard shift cars (autos use a vacuum fitting). Also correct power brake vacuum port-has only one large tube fitting.
3 heater motor mounting nuts with rubber inserts
Have washer bag and clips but need hoses and washer nozzles.
Inner alternator bracket (not the "C" or "Z" shaped brackets-the third one)


Edited by tbenvie - Sep/02/2008 at 8:16pm