I know I will be opening a can of worms here... but I am not going to make this into a theory class nor tell you how you should have done your updates to your car for better cooling.
What this thread is on about, is how to improve on what you got, and best utilise your pick on future upgrades.
Basically... your engine cooling fans do more than just cool the engine, but are limited by radiator size and thermostat setting. You can adjust for a large radiator, but you cannot with one too small. So, what works well in your environment may not do so in other environments.
Back when I was just learning to drive. Ford had introduced the Fox body Mustang Police Interceptor for California. Their biggest point about the car was it was tested to run for hours at 132MPH in the desert with A/C on. Smallish car, v8 and temps in the 100+ degree range. That wass something back then, and is what many may find impossible with a stock pre 80s classic.
So before I get into the nitty gritty of what may not be covered in other threads, or overlooked in installation of replacement components, I will lay it all out and go through each segment of operation.
Here is my latest super duper muchly improved super mega circuit, as it has a greater range of programable time delay settings and uses separate 30A breakers and 30A fuses to allow at least one fan to function when failure occurs.... No other online DIY curcuit has such a function, and ease of trouble shooting sections.
Note... the fuses and breakers are for general setups. Depending on fans used, a substution of a lower or higher amperage can be used. Example, the fans I will be using, have an oem setup with a 45A fuse to the fan control module. Since the fan control module, small fan, and large fan are on one fused circuit, a separate fuse can be used to protect each fan circuit and module if isolating each component as done in my mega circuit. The breakers are to protect wiring from a possible shorted out relay, or a pinched power feed wire.
Since many have there own cooling fan setups, I made a circuit, shown further down, for generic setups, and can be custom wired as needed, depending on how many fans or circuits are needed.
The high speed delay module allows for automatic high speed override, to operate the cooling fans in high speed, with a longer duration than just letting the temp switches control on/off functions. It can keep speed hunting to a minimum, and saves on ware and tare depending on how the delay is set.
Automatic high current run on protection during the high speed fan operation, when the engine is off. The circuit ground trigger is controled by both temp switches working together, along with the delay circuit's ground isolation function,  it's almost impossible for the high speed fan operstion to stay on, if circuit failure happens.
Instead of ramping down from high speed, it stays in high speed until cooling has subsided below the need of fans to be on, if set to a delay of 5 or more minutes. If delay is set low enough like 1 to 2 (or more) minutes, it will ramp down, depending on the heat conditions and engine operation. Having no ramp down saves on wear and tare, but primarily, the higher delay range can allow driving below the over heat condition longer, in order to limp to a pull out or service station. It is safe to set the delay for 30 minutes or longer depending on how you feel the need for running hot in extended time frames. Note: it will effect how long the fans will take to turn off when engine is shut off. Assuming normal temp ranges, the fans should kick off within 10 to 20 minutes. But if a over heat condition or switch or relay sticks, the delay module will allow much longer time frame of fan operation. I suggest a 30 minute delay, as it gives time to still limp and stop in between before the high speed fan delay shuts down and only allows low speed to function.
Below is how to setup the wiring for alarm delay control module. As simple as it is, it can confuse many by the way it operates with multiple ground connections.
Here is a link to a cheaper model that has a trigger input, instead of a delay on / delay off function. To make it act the same, just jumper the two pins below the VCC and Ground block header.
https://www.ebay.com/itm/New-Turn-On-Turn-Off-DC-12V-Contactor-Switch-Module-Relay-Delay-Timing-Timer/202351529063?hash=item2f1d174c67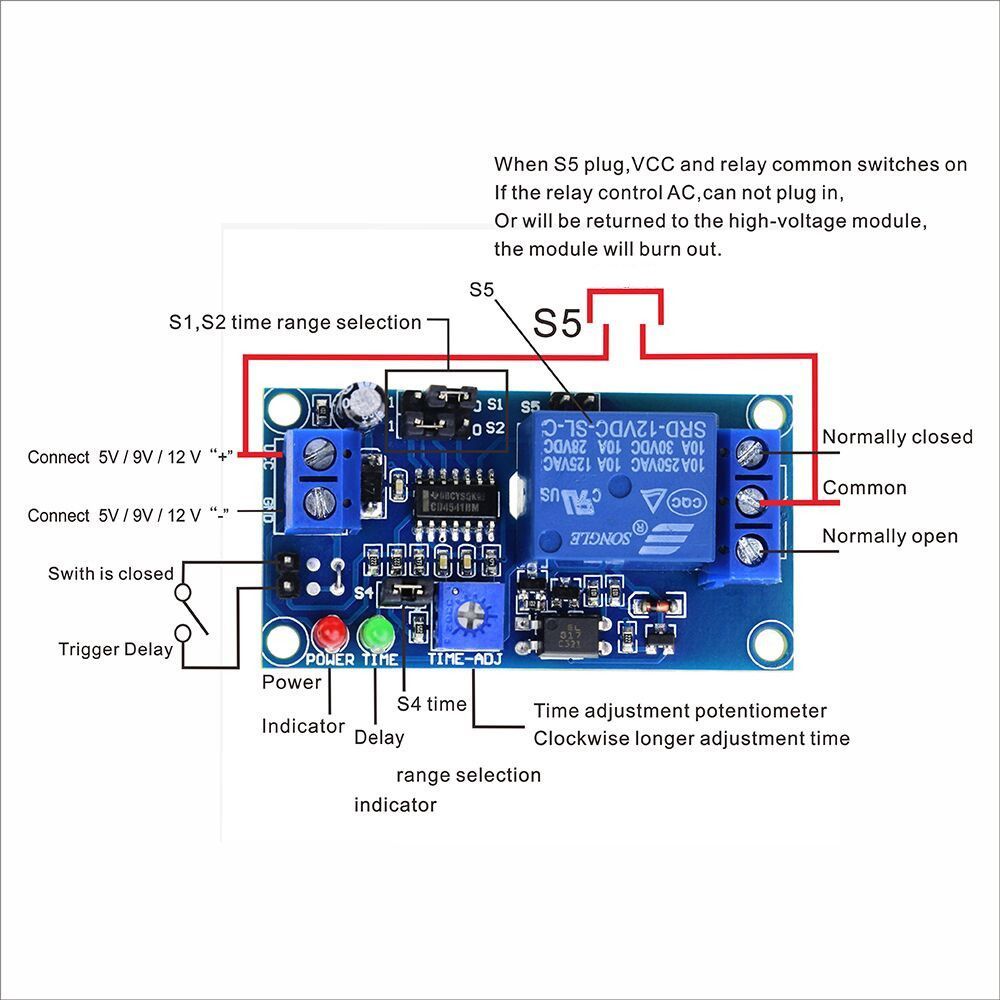 Below is my original mega circuit to operate A/C and engine cooling.
The PWM controller is used over the internal resistor within the dual speed A/C fan. A note... dual speed fans usually burn out the low speed resistor over time. Could be environmental, or lack of proper design in heat control, to keep thermal expansion from stressing the wire and eventually breaking contact.
If the main fan is single speed only, adding a PWM in series to the fan low speed output on the circuit, will allow dual speed function. When high speed kicks in, the PWM will still function without issues, since the full voltage of high speed will over ride the use of current from the low speed section.
I chose not to switch the PWM off when high speed fan kicks in, because high speed should only rarely kick in, and just puts more ware and tear on it in the long run.
Another note... notice the use of a single 30A fuse. Some may use relays with a single 30A fuse built in. If by chance the delay circuit shorts out and a fan motor or both short out to cause the issue, over 60A will be through wiring, and cause a fire with your 16awg fan control wiring. So, for added protection a single fuse should be considered for operation.
The circuit operates as follows. A/C fan and compressor will operate only if adequate pressure is within the A/C system, by use of a trinary switch. Most kit systems use a binary switch, which only protects 1/2 of the A/C systems operational function.
Don't confuse a switch with a sensor. Many new A/C systems now operate with sensors. Sensors or more costly and larger over that of a switch, and require a control device, like ECU and a fan relay module.
The A/C fan will run when the compressor is in operation or when the compressor is deactivated by pressure becoming too great for the A/C system. Once pressure stabilises the fan will turn off when not required by the A/C system.
My rule of thumb is all switches MUST utilise a relay, even though they do function for completing a circuit for operation. Internally they are not as robust as a relay, and may become faulty sooner than using a relay.
Note: after looking a threads on A/C in cars, I found more newer systems are less problematic. Though after digging into it further, it seems to be how everything is tied together and functioning as one. Thus my design being all encompassing. Now the A/C fan operates in dual purpose mode. It acts as an auxiliary fan to the main cooling fan. So whether or not the A/C system is active, once the main fan is active, the A/C fan will run accordingly to the mode of the main cooling fan. If the main cooling fan is off, the A/C fan will remain active while the A/C clutch is engaged.
Back to the trinary switch... when pressure within the system becomes high, the trinary switch will open, causing the clutch to disengage. Though the power feed from the A/C relay will continue to operate the A/C fan. This will allow the pressure to stabilise by cooling the condenser further while the compressor is at rest.
This is one reason why many old mechanical and single fan setups don't cool well when vehicles are in stand still traffic. Some people setup their single electric fan to just kick in with a temp switch, which may not operate when the A/C system needs it.
Unlike the engine cooling fan, the A/C fan will not turn on independently, unless in high heat condition, via the 210° F temp switch, which will turn off once temp lowers to 190° F.
The thermostat should be left as stock, or no more than 10 degrees higher if engine build requires a hotter operational spec.
For engine cooling, the system has two temperature switches. You can use a trinary switch, but they cost more and only one side fails most of the time. Problem is where to install them.
If your engine is 72 and newer, an in line fitting on the bypass hose will work. For pre 72, a Jeep thermostat housing with two ports will work. Or any 72 on up car thermostat housing with a single port, using a trinary switch.
As an added feature, the high speed delay relay was utilised to keep high speed fan circuit active beyond the time it takes for the temp switch to turn off the circuit.
Now how to cool the condenser, even if you have the world's best or just ok cooling fan in operation while the A/C system is in operation. The answer is mount It about 1/2" away from the radiator, and seal around the parameter in between. This will draw 99% of the air through the condenser, rather than 75% at best. Though you will need to have a sealed off fan shroud at the engine side of the radiator, or obtain a push fan to mount on the front of the condenser.
Condenser size can be as big as the radiator support's opening, as long as it doesn't restrict the flow to the radiator.
Unfortunately AMC has a narrow height of 14". With a surface area limited by 14" height, the only option is to go wider. Though custom lines will be needed, unless your replacing with or installing a custom kit.
Once I fit my aftermarket radiator, I can better determine if is possible to squeeze a 15" height condenser. Aftermarket condensers have about 1.5" of its total height used up by top and bottom mounting flanges and rails.
With about 3/4" width on the condenser, there may be enough room to fit to the radiator side, if not it will need to be in front of the radiator supports.
To allow maxium air flow, mounting will require a wider width over stock, about 30" to 32". So, I guess a 15"x32" can be mounted up front with mods to allow pass through of refrigerant lines, if holes are needed.
Back to the radiator opening... There is so much more room to support a much wider radiator. At least 30" of width in the opening. Unfortunately the way the mounting is done, modification must be done to open up for flow to pass beyond the limitation of stock mounting.
For stock applications the above about bigger is better, is not required. Just many who are finding weather conditions and traffic being difficult on cooling and air, the above info given is more about how to minimise flow loss of air cooling effects, through the system. If you can minimise flow loss, by sealing gaps, or minimising air flow restrictions. Some of what I brought up can be used in making a better choice for your needs.
One easy fix for stock cooling fan cars, is to add an electric helper fan to push air when needed. It can be as simple as using a manual switch to operate.
Will add more... later on.